Running tours? What's that about?
RunPiter — the first running tours in Moscow, St. Petersburg and Rostov-On-Don.
A running tour is a great way to explore a city. We'll show you around in a one-hour (or thereabouts) running tour, taking in all the highlights, including Saint Isaac's Cathedral, the Bronze Horseman, unusual Gorkovskaya metro station, Summer garden, Palace square or other sights you would like to see. The concept is quite simple: you get a guided running tour, which starts at your hotel. Groups are usually small, mostly not more than 5 people. There are no obstructions for runners. So we can go where we want, and you can always customize a route specifically for you. When you get back to your hotel, you'll be filled with new sweet memories of one of the most romantic and historical places on Earth. Fun is guaranteed! Moreover, every participant awarded the Medal of fondness for Saint-Petersburg.
Book us so that once you're back home, you'll be able to say: "Yes, we ran… Saint-Petersburg!"
Why we run?
We have a passion both for running and our culture. Thus, we would like to share with you our love of running as we share our city with you.
These runs are perfect if you are a tourist looking to explore a new city, training for a race and interested in a running partner, or a business traveler eager to fit or burn off a few calories in a run and looking to avoid the boring treadmill. In addition, we are confident, if you really want to experience the streets of Saint-Petersburg, there's no better way than a guided running tour.
Welcome to non-tourist tours!
All routes are completely customizable specifically for you. Fast, slow, intervals… you decide! You choose the day, time, how far and which areas and sights you would like to see. Your personal running guide will meet you at the hotel or location where you are staying to take you on a run. At the end, our running guide will ensure you get back to where you are staying.
About our free payment concept
Because running is supposed to be free… So pack your sneakers!
There is no set price for taking a tour. Instead, you are free to 'tip' your guide as you see fit after your tour. You decide what the tour was worth – the power is yours! All in all such a concept is a win-win scenario for both the traveller and local guide as it's the good guides' motivation to deliver a top-quality if they were being paid a set amount for a guided tour. So jump in, you won't regret it!
Any profits accruing from running tours are directed towards charitable institutions.
Video feedback and awards
OUR TEAM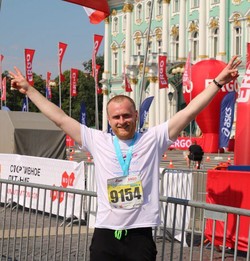 Andrey Skriptsov
Running guide and project founder.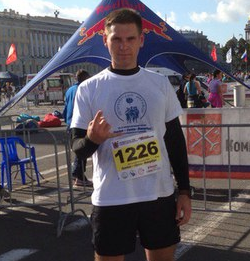 Roman Polyakov
Running guide and ideologist of the project.
Want to get involved or still have more to ask – feel free to contact!
«Отличный гид, отличный проект, красивый город»
13 июня 2019 — Путешественник TripAdvisor
Прочитать 25 отзывов о Run.Tours